Meet Dr. Michael Tobey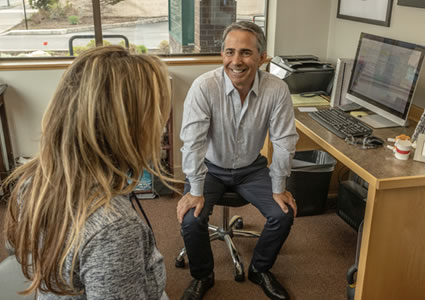 Like a lot of chiropractors, Dr. Tobey had a personal experience with chiropractic that changed his life. When he was 14, he used to get headaches and bloody noses frequently. Since his mother was seeing a chiropractor for her bursitis, she took him with her to an appointment where he was adjusted—and just like that, his bloody noses and headaches stopped.
It was then that he understood the true power of chiropractic care.
A Twist of Fate
Though Dr. Tobey originally intended on becoming a pilot, a miscalculation during a gymnastics stunt resulted in painful herniated discs in his neck. Again, he visited a chiropractor and found incredible results. The rest, as they say, is history.
Dr. Tobey went on to complete two years of undergrad at Chemeketa Community College in Salem and then went to Western States Chiropractic College in Portland. Four years later he emerged as a 24-year old doctor ready to take on the world.
Every day since, he's enjoyed the opportunity to teach his patients about the benefits of chiropractic care, and work with them to achieve their goals in health through focused, custom therapy.
Walking the Walk Without Preaching
Dr. Tobey is a believer in moderation and he practices what he preaches, striving to live a healthy life by exercising and getting proper nutrition, in addition to regular chiropractic care. Occasionally, he will have a slice of pizza—after all, he's human (aren't we all?)
Dr. Tobey is happy to help even if you're not a patient. We hope that you'll think of us as a health resource for the entire community. If you have a question, please call our Bend chiropractic office or email us.
We'd love the opportunity to meet you and learn more about your goals in health. Get started today by reaching out to our practice.
CHIROPRACTIC CARE »

Dr. Michael Tobey | (541) 383-2185